What will your window cleaning service include?
Your total residential window cleaning package from Alpine High will leave your view dazzling!
Detailed cleaning of all windows inside and out.

Wiping of all frames and exposed sills
We move all obstacles
Specially formulated soap for long lasting shine
FREE screen wipe down
Total satisfaction guaranteed
Unique 48 Hr. Rain Guarantee
"Alpine High Window cleaning is awesome ! We highly recommend them. They are always on time, professional and do an amazing job. Window cleaning is one of those things you don't feel like spending money on. But it's worth every penny. We have used them twice now and they are the best ones out there!"
-Rick + Camilla Rose, Nov 2011
Wenatchee, WA
Client since 2011
Referred by a friend
How much will your window cleaning service cost?
For a ballpark price, please consult the chart below.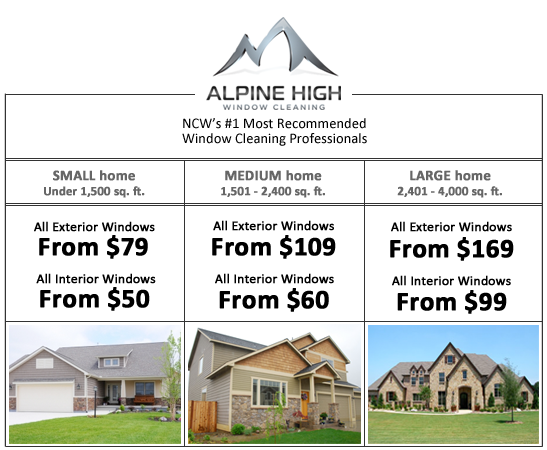 "We always have excellent service from Adrian and his crew. They are extremely professional and reasonably priced. They have cleaned our windows and our gutters/eaves."
-Michele ‎, May, 2011
Wenatchee, WA
Client since 2011